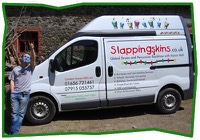 Team Building and African Drum Workshops in Oxfordshire

If you require an African drumming workshop or a team building activity in the Oxfordshire area then Slappingskins Global Percussion could be just what you're looking for.

Aaron Meli of Slappingskins has developed a unique African Percussion workshop available to PRU Units, Hospitals, Special schools, Nursery, Primary and Secondary schools in Oxfordshire and throughout the UK.

Slappingskins is available for all sorts of events including corporate team building, private party celebrations and weddings in Oxfordshire and beyond. Slappingskins usually works with up to 30 drummers at a time on a coherent music workshop which introduces different instruments from a range of different cultures, allowing participants to have fun learning the basics of playing these instruments. Each workshop guarantees a drum (djembe, darabuka, bougarabou) for each participant and plenty of time for everyone to enjoy playing the instruments. Larger groups can always be accommodated.

Booking Slappingskins will ensure that your event in Oxfordshire goes off with a bang as Aaron is an enthusiastic and engaging drum facilitator who likes to get everyone involved in the rhythm. Bookings can be tailored to suit individual needs and group sizes.

Aaron has a vast collection of instruments containing over 40 djembes and other hand drums, almost a dozen log drums (krings), surdus, djun djuns, tamborims, agogos and cow bells. Along with over 100 other various bits of hand percussion, if need be, Aaron can work with over 200 participants in a single session!
Getting involved in djembe changed my life. It gave me a new way to express myself, make music within a group
Aaron Meli