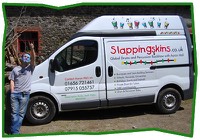 Welsh Assembly Government (Cardiff Bay)
Princes Trust.
University of Glamorgan.
Imperial College Healthcare NHS Trust.
Glastonbury Festival.
Spark Project.
Mannifest festival, Isle of Mann.
Dynamo Project.
Porthcawl Pavillion
Millenium Centre (Cardiff Bay)
Mid-Glam Education Business Partnership.
Bridgend College.
St. Davids Hall (Cardiff)
Peoples First.
Powys Carers Association.
Foster Care Association,.
Greenman Festival.
Pembroke Activity Centre.
Caswell Clinic (Mental Health)
Bridgend Pupil Referal Unit.
St. Fagans Welsh History Museum
Amongst others…
Onlookers are transformed into participants... Cultural lines are both redrawn and blurred as Aaron's inclusive teaching style lets music do the talking. Be sure of one thing...the rhythm's gonna get you
Andre van Wyk Bridgend County Borough Council Arts Development Officer
Slappingskins has been an inspirational mechanism for creating new energies for young people….. I have had the pleasure to be in attendance of some of the African drum rhythm workshops and have noted the reaction of the young people which echoes the vibrancy of the delivery
Phil John, Youth Service Organiser
Music indeed does have the power to unite people beyond race, culture and nations. It speaks to everyone's heart universally. This is the magic that Aaron carries with him in the Slappingskins roadshow.
Rebekah Keavney, Theatre and Cultural Development, Eco Dysgu
A day that I'll never forget
Alun Jones, NAfW
Sessions were well structured and all children were very eager to participate. Special needs pupils were well intergrated.
Head Teacher, Pil Primary School, Bridgend
All the children really enjoyed the workshops. The sessions were well organised and every child was given the chance to try different types of drum. The drumming activities were useful for developing coordination and thinking skills and were well matched to the children's stage of development. They learned new skills in a fun way and were very proud of their achievements
Head Teacher, Llancarfan Primary School
Since getting home, my four children haven't stopped turning everything from tables to boxes to saucepans into bongos, and they want your assurance that you will ask Slapping Skins to come back next year.
The workshops were fantastic - Aaron kept the whole tent-full of children utterly absorbed for the whole hour, and effortlessly managed to control the tempo & volume of each section of instruments without needing any words. His gestures were so self-evident, and the rhythm so addictive, that I cannot recall any child losing interest, fidgeting, or leaving, which is quite a feat considering that there were 70+ children who were probably over-tired, over-excited, and of widely differing ages. I am not surprised that 2 of mine loved it, but was stunned about the other 2 because one of them is very sensitive to loud noises and the other has no musical ability or passion.
My children were hooked from the moment the rhythm started, and at the end did not believe they had had the whole hour - they wanted more. They insisted that we returned for every session that we could, and rather than losing interest, the children's enthusiasm increased each time we went. The attitude of Aaron and the others was brilliant too - they were all very approachable and happy to chat to the children & answer their questions.
I've found their website, and the children have played the mp3 recording over & over again.
Amanda Stinton, Greenman Festival Regular
After speaking to staff and children they felt that your workshops were informative, enjoyable and fun. Many of the children were very enthusiastic about the experience. If you wish to pass the school telephone number onto other schools then we would be happy to oblige in passing our positive experience on
Many Thanks
Ian Russell, Tyn-Y-Wern Primary
We were delighted with the response from the sessions - fab comments and hopefully we'll have the chance to do it all over again!
Nicola Newhams, Business Development & Events Manager