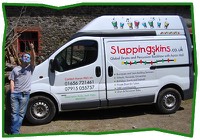 Education: School Drumming workshops

Slappingskins Educational school drumming workshops are tailored specifically for students. Aaron of Slappingskins has over 15 years experience working with students of all ages and musical abilities from Key Stages 1 and 2 to A levels and beyond.

Slappingskins provides inspirational workshops for students of all ages. Workshops are hands-on, interactive learning experiences and have been welcomed at many Nursery Schools, Primary and Secondary Schools, Colleges and Universities throughout the UK. Aaron also works regularly with Special Needs and can tailor sessions as needed.

After speaking to staff and children they felt that your workshops were informative, enjoyable and fun. Many of the children were very enthusiastic about the experience. If you wish to pass the school telephone number onto other schools then we would be happy to oblige in passing our positive experience on
Many Thanks
Ian Russell, Tyn-Y-Wern Primary
Slappingskins workshop format:
To start the day: (9am-925am) I'd like to give a presentation to all of the pupils that I'll be working with throughout the course of the day: During this presentation I will introduce the different instruments, talk about the different countries from which the instruments are from, talk about the roots of such methods of music making and their relation to our culture here in the UK followed by a demonstration of drumming.
Each workshop will be tailored to suit the level of the class. The Nursery Class, for example, will focus on helping the children become comfortable with the instruments. The session will be lively and fun with lots of movement and rhythm games to keep everyone's attention. The older children will be more able to keep and hold rhythms and so the emphasis will be on holding a beat and working around the beat in a fun approach to improvisation and soloing.
Every pupil will have his/her own drum for the entirety of the session. A school hall is an ideal space for the Slappingskins Roadshow. We can use the gym crash mats to make a nice soft surface for the drums. (Three pupils per crash mat). The pupil will then sit on the side of the drum to play it. Alternatively we can use chairs for the older pupils.
A guide for the day of workshops could look like this:
●
9-9.25am Presentation to that days participants.
●
9.30-10.25am First workshop
●
10.30-11.25am Second Workshop
●
1.30-2.30pm Third Workshop.
●
2.30-3.30pm Fourth Workshop.
I can accommodate 30 students in each workshop and am, of course, flexible in how we run the day of drumming activities. Slappingskins can also work with larger groups if required.
Contact Slappingskins
so that we can advise you of the best options for your school.
All the children really enjoyed the workshops. The sessions were well organised and every child was given the chance to try different types of drum. The drumming activities were useful for developing coordination and thinking skills and were well matched to the children's stage of development. They learned new skills in a fun way and were very proud of their achievements
Head Teacher, Llancarfan Primary School
Education: Video Tutorials
Check out Slappingskin's video tutorials below and so much more on
Aaron's YouTube Channel