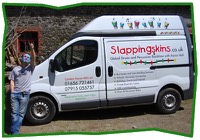 Slapping Skins offers the following services:
Corporate Days Out, Conferences and Seminars: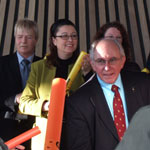 Slapping Skins can offer your workplace or event a unique opportunity to gather your members, regardless of musical ability, for a high energy, dynamic session incorporating essential working concepts such as team building, effective communication, creative thinking, building trust, cooperation and motivation.
Slappingskins has been booked to work with groups as large as 200 and as small as a handful by organisations of all sorts including NHS Trusts, The Welsh Government, Princes Trust etc.
Whatever your event Slappingskins can create a fun filled and memorable experience for you and your colleagues.
Each session starts off with a basic introduction to the instruments and their playing style so that you can get the best out of your instrument.
After some warm ups and an ice breaker to get everyone relaxed and ready for the session we'll get playing and will have the chance to improvise around the beat.
Some ideas for sessions include:
Ice breakers and energizers at conferences and meetings
High energy team building drumming session
Regular workshops at your workplace
Drumming is very relaxing and can have many health benefits.
The BBC have reported about the benefits of drumming:
http://news.bbc.co.uk/1/hi/health/7872043.stm
Contact Slappingskins
now to talk about a session.
We were delighted with the response from the sessions - fab comments and hopefully we'll have the chance to do it all over again!
Nicola Newhams, Business Development & Events Manager
Teacher Training:

Teachers! ....Ever wondered what to do with that wonderful stock of African percussion in your school?
Why not invite Aaron along to help you explore some rhythmic ideas, games, team-work skills and listening exercises.
Excellent feedback from all staff. A most enjoyable day!
Head Teacher, Pil Primary School, Bridgend
Reskinning:
Slappingskins provides a re-skinning service for your broken djembes.
£60.00 covers the cost of a re-skin including the skin.
For a prompt service please
contact Aaron
for further details